In 2018, Jeff Schneider, former guitarist of Rhode Island underground rock sensations Arab On Radar, published "Psychiatric Tissues", one of the most outstanding rock memoirs of the 21st century. An unsparing gaze into the underground music scene of the mid 90s/early 00s, it is by turns unsparing, bleak, funny and most importantly turns your attention back to the extraordinary music that AOR created, and the context in which it was able to exist. In this extensive, in-depth interview for SALT, Jeff talks about the evolution of the book, the tumultuous history of Arab On Radar and the underground scene, bringing us right up to date with his present activities as an independent publisher of some of the best contemporary literature. Honest to a fault, erudite and very funny, it was a great pleasure to do this interview with Jeff. The results, dear reader, are here for you to enjoy.
Why did you decide to write the book in the first place?
Part of being in Arab On Radar and playing in the music scene for so many years was all the great experiences we all shared. I enjoyed the process of walking the path to some underground success. I felt that I had a unique perspective knowing just about everyone in the scene at the time.
I had to put the narrative out there in a fair and comedic way. I hope people appreciate the humor and honesty of the book.
Were there any music books/biographies that you took inspiration from or used a template for "Psychiatric Tissues"?
I was greatly inspired by Nick Tosches, one of the best music biographers ever. I read many of Lydia Lunch's books, all are great, but her fiction/memoir Paradoxia is fantastic. I re-read the Frank Zappa book which I think is an eclectic and amazing book full of interesting takes. I also researched a lot of the magazines that did interviews with AOR, like Skyscraper and an article in Thrasher Magazine. There definitely was some Joan Didion influence, particularly the way she showed the uglier side of counter-culture in such a stylistically beautiful way in her essays.
How did the book transform over the time it took you to put it together?
It was written in a fever pitch, thousands of words a day. Since it is a timeline structure it often was challenging to figure out what came in what order. I recognized there are some errors, but I figure if it is wrong, that is how I remembered it. A few people were upset because they were not in the book, but that was because in my mind they must have not been important or salient in my experience. I wrote it intentionally in a low-brow style, because we were a low-brow band. It had to be written this way to be consistent with the way the band always was.
There are so many details that are stories in themselves that leap from the page, like your reference to liking Skinny Puppy as a teenager in contrast to your contemporaries. I wondered what attracted you to them and what you think of them now?
Admittedly, I was quite confused, generally, as a person and particularly about music. I listed to Skinny Puppy when I was with the "progressive" kids, then an hour later I'd be with the Deadheads and would be spinning around to some bootleg recording of Bertha from 1971. But I did like Skinny Puppy, Christian Death, Alien Sex Fiend and Bauhaus. I remember reading in 2004 or so that Skinny Puppy's music was used by the US military for torturing prisoners at Guantanamo Bay, I thought that was ironic because as abrasive as they may be their politics are quite Left leaning. Psychologically it may have been helpful rather than harmful. I will always be a Skinny Puppy fan.
The mid 90s to mid-00s independent/underground music scenes are still under documented in books/films etc. Are there any groups/levels that you would like to see given more attention and acclaim?
I am on some Facebook groups, Reddit, and discord servers where people have really gone over those years well. There is a common narrative of mostly people who weren't there but are looking back on the folklore of that time. I wanted to contribute to that narrative with Psychiatric Tissues, perhaps provide more facts for people to mull over. I think probably what you mean though is more of an objective documentation of the music by more academic writers and archivists. I think that is yet to come, particularly the type of fringe music AOR (and like bands) did in those years, people are still contemplating what happened. But then again, perhaps no one wants to slow down enough to know anymore. In the 90's people were far more nostalgic by and large.
You mentioned print media and I wondered how AOR were covered/treated by music magazines over the course of the band's career, in the USA and abroad?
Any press we ever got was from someone going out on a limb to be kind to us. I am not sure what their motive was, but I know it was not having a strong publicist or support from the scene around us, nothing like that. I think a few writers took a chance and helped us in print. Although many reviews portrayed us as a circus act or a free jazz group who couldn't play the same song twice, which was not the case at all. We worked incredibly hard and disciplined to make that music and it might have just been outside the Overton Window of the times by a few centimeters. But yes, people like Skyscraper Magazine, Thrasher Magazine, many blogs, were kind enough to review our records or interview us.
(I should have written about your show for my zine SALT. One reason that I didn't write about your gig at the Adelphi in 2002 was that nearly every zine in the UK was full of local gig reviews, and I was trying to do something different with mine-more interviews, art etc.)
Don't worry about that. Hindsight is 20/20.
The story about discovering the Travis Bean guitar is one of my favourites from the book. How important was that for you as a musician to finally have the instrument you most wanted at your disposal?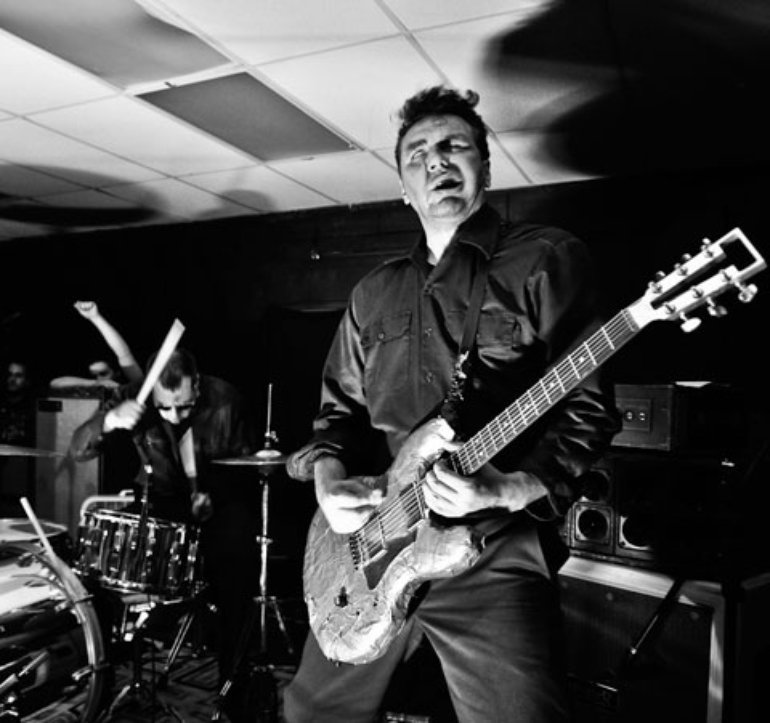 It was one of the best days of my life! I wanted a Travis Bean because of Keith Levine (PiL), Steve Albini (Big Black/Shellac) and Jon MacLean (Six Finger Satellite). All three guitarists are amazing. At the point where I finally found one, I needed that instrument to be a tool, a lightning rod for the sounds I heard in my head and wanted to unleash. I was very proud of myself for finding one and I played better as a result. They are great guitars for a certain type of music for sure, the best. I am glad to have been an influence for so many people buying the Travis Bean knock-offs from Electrical Audio Guitars now, they are cheaper and more diverse. I am proud to be a pioneer of the metal neck guitars and happy to have shown so many people a few nice ones. Glad it caught on.
The book brings what seems like a lost era of music back to life, with bands like Six Finger Satellite now seemingly forgotten and their records out of print. Their work is ripe for rediscovery. You write very warmly about them. What help/support did they provide to AOR?
Well, Six Finger Satellite were like our older brothers, with all the masculine energy that comes with that role. That said, John MacLean recorded our first music for us very kindly, and he taught me some techniques about recording. We used to rent from them and practice in their recording studio The Parlour. They saw us as wanna-be's I think, but we just hadn't found our own unique and evil thing yet. The irony is the drummer Rick Pelletier (drummer of 6FS) went on to be in the Chinese Stars with Eric Paul as a subordinate role within that band. So, the tables do turn with power struggles sometimes. All in all, we are all friends and from the same milieu. I just email dialogued with J. Ryan (singer of 6FS) the other day in fact. 25 years later we have mutual respect. I feel honored to be that close to such a great band.
All the stories of AOR 'jumping on bills' and playing with so-called cooler bands really resonated with me. Even at the micro local level my band Undersex played at, we encountered that sense of snobbery and elitism from the bands who wanted to 'make it'. (We opened for nearly every local band and not many appreciated us). I agree with you that promoters enjoyed putting on that type of oddly matched group of bands for shows. What do you recall about that feeling of playing as a band to no one (or very few people)? Seemed like a very steep learning curve.
It was quite miserable to play second fiddle to so many narcissistic bands trying to "make it big." We had some insane notion, that even if there were literally no one in the room we would still go for it 100%. There are some funny stories in the book about playing to an empty room, zero people, just to justify where we were, what we were doing and why, to no one. Delusion is part of the process, I think. You have to think you are on to something to actually become something of merit. Some of our best shows were played to 2 or 3 people. Maybe some – nobody! What are you going to do in a basement in Arkansas otherwise? You have to suit up and the show must go on. We were performers, entertainment, an act, after all. When either cat food or watered-down pasta and sauce is your dinner, it really doesn't matter, it can only get better from there!
How is your hearing these days? All that vicious high end guitar frenzy made me wonder about the toll making music has on those who make it? (Seeing/hearing Lightning Bolt live in 2004 at very close range hurt me so much that I've worn ear plugs at shows ever since. My ears did recover!)
I suppose I have been incredibly lucky; I haven't been affected too badly. I used to roll up toilet paper and put it in my ears almost every night. There was a really debased time where I would scour the floor of the club (back when smoking in clubs was a thing) and find someone's used cigarette butt and stick that in my ear. It was a foul and filthy thing to do but the filter somehow cancelled out the frequencies I needed. I imagine other bands have a worse problem with this. We usually used the PA system in the venue or whatnot to get maximum volume. We were never insanely loud.
You write so warmly about Andrea Fiset in the book, and her immense contribution to AOR can be seen and heard on the albums and in the live footage contained on the "Sunshine for Shady People". But in the chapter 'Inner Outcomes' you also say that, 'looking at the facts, Andrea matured out of what we were doing'. I wondered if she has read the book and if you had any more to say about her part of the life of the band?
Yes, Andrea was our older sister figure who mentored us and tolerated our adolescent ways. She was an amazing bass player. I think she matured out, in that, the band felt quite pointless in 2002, this was all before any other band in our scene had any level of success. We were touring and really couldn't figure out how to sustain it on any sane economic level. I believe she equated playing in a band to other hobbies, snowboarding, and her passion at the time, which was massage therapy. I think, bands and the musician's life, after all she had experienced, just did not seem fulfilling enough anymore. She left for New Mexico to pursue her dreams, I was very sad and didn't understand, I was a bit brainwashed into feeling that it was either AOR or meaninglessness at the time. I think she realized that there was more to life than being in a noise rock band. I haven't spoken or heard from her since. I do not think she has read the book. I feel indifferent about it now, I would send her a copy but I think she doesn't care about any of this stuff anymore. That'd be my guess.
The story of how you ended up on Skin Graft instead of Load Records is another remarkable one. Lake of Dracula are another great, seemingly forgotten band. I have Ben McOsker to thank for a hell of a lot (we can come back to this), but I wanted to ask your thoughts on the second era of AOR on Skin Graft from "Soak the Saddle" onwards. I'd like to ask Mark Fischer about working with you too.
Ben was a major promoter in those days, he was everywhere and knew everyone. He was insanely passionate about the noise rock music scene and cool stuff going on in those years.
The second era, yes, "Soak the Saddle" onward was our best music, I think. We had our shit tight and were 100% committed to making our music, touring, and art. Our relationship with Skin Graft had a lot to do with Brian Peterson, who at the time worked for Skin Graft. Brian booked the venue Fireside Bowl, a legendary bowling alley/club in Chicago. We really hit it off with Brian and he was such a workhorse, booking afternoon all-ages shows, nightly shows, playing in many bands (MyLai being the one he was in when we met him, then 7000 Dying Rats.) He toured, introducing us to many people in the Chicago scene, and helping us bridge over into the hardcore punk scene. The guy was amazing. Mark Fischer loved comics. Skin Graft began as a comic book, Mark and Rob Syers when they were kids. Mark was a patron more than anything. Skin Graft's roster is quite eclectic, bands are signed mostly on recommendation or friendship. This is why anything Cheer Accident or Strangulated Beat offs do will have a home on Skin Graft. I think both Mark and us in Arab On Radar were in the right places at the right time (for whatever reason) and joined forces to move the label and the music forward. I can't say he was a real record collector of noise rock; he didn't know about other Providence bands of our ilk and didn't engage our scene too closely. That said, he was supportive all the time, he hung out, when he moved to Europe, he came on tour with us. It was insane. I sensed he could see that there was more to life than noise rock, but at the time, we didn't.
Over the years things with Mark have changed. Mark has told me he doesn't like all of the drama that happened after the breakup with AOR, the relentless battle that happened between Eric and me over the last 25 years. It is truly insane and I don't blame him, nobody likes it, I don't like it. I take full responsibility for making the mistake of fighting back against a person who has better skills than I will ever have at manipulation. I am worn out on the fighting and I think Mark is too. Unfortunately, we aren't that close and trusting anymore because once the mud is slung, even if it is false, you still have a stain on your shirt.
I have thought about the section where you talk about feminist rock and identity politics a great deal. I must say that I wasn't aware of Riot Grrl in its earliest incarnation (although I did see UK band Huggy Bear play live on TV over here – that was a seismic event), but I caught up later and was more a fan of Le Tigre than Bikini Kill. I took the 'girls to the front' injunction to heart when I saw them live and stood at the back of the room. As a metal fan who also loved all kinds of music, I took that as a request, not a command, and was happy to do so. Ironically, one show where my long-haired friends and I received NO support was from hardcore fans at a Converge show, except from the band themselves when they stepped off the stage to talk to us at the end of the set. Ultimately, what I take from your writing about your experience with The Need is that any sense of solidarity was lost amidst a lack of basic respect; that there is a room both The Need and Arab On Radar in any future musical landscape. I'm more than happy to discuss/elaborate further on this question.
My opinion is that basic respect is undermined by politics. The music scene, and particularly the music scene in the time of AOR, was negatively affected by politics of various nature. I'll spare the reader the in-depth analysis. I think is too difficult to explain what I was addressing in the book in the current social-political climate.
One of my favourite extra features on "Sunshine for Shady People" is the poster gallery, and I notice that you've been posting more of them recently. I am proud to have the "Yahweh or the Highway" tour poster. What input, if any, did the band have on these posters? I'm a keen poster collector and I also wondered which ones were your favourites – AOR or of any other bands?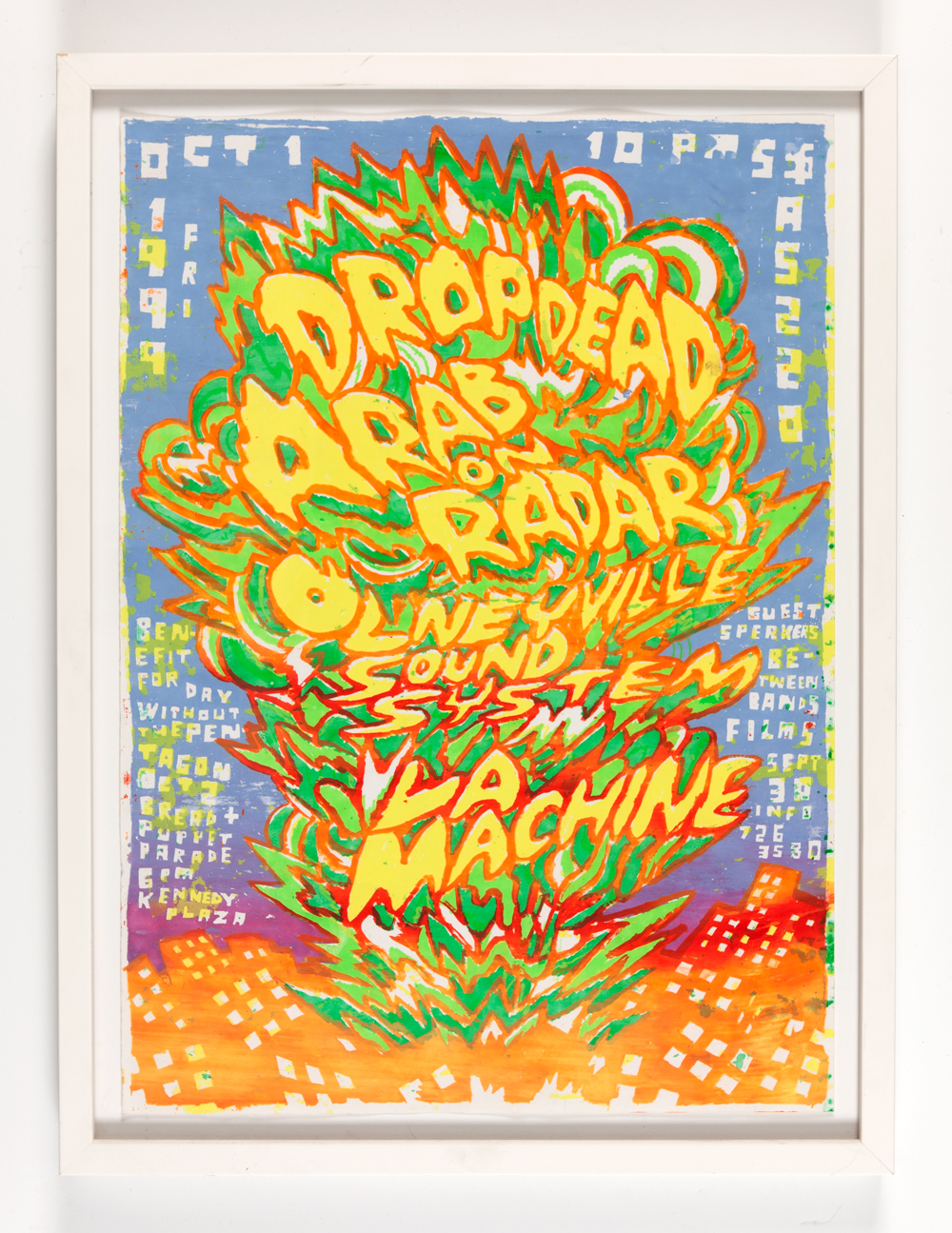 We had near to zero input on any of our visual art. We had a very good team early on working with us, which included Mat Brinkman, Brian Chippendale (Lightning Bolt), and Neil Burke of Born Against/Men's Recovery Project fame, who did some design work. My favorites are the ones from Fort Thunder. Like everyone else, I think that the Fort bred amazing art. I have to mention a chap named Scott Langlais, aka Scoots, who did some of our earliest flyers when we had zero fans, he was so nice to help us. He did the Marilyn Manson/AOR flyer and many of those old school ones. I love those.
To me, AOR can be summed up by what I would call professional confrontation – a band that knew exactly what it wanted to accomplish and took no prisoners in achieving it, especially in a live setting. That is what comes back to me when I think about the show, I saw you play; a harsh gang attitude in pursuit of a greater goal – one hell of a live performance. This is what the matching outfits, the belts, the colour schemes. There are few other bands I've seen who make that much effort. Where did that level of intensity come from, and what do you think it cost all of you?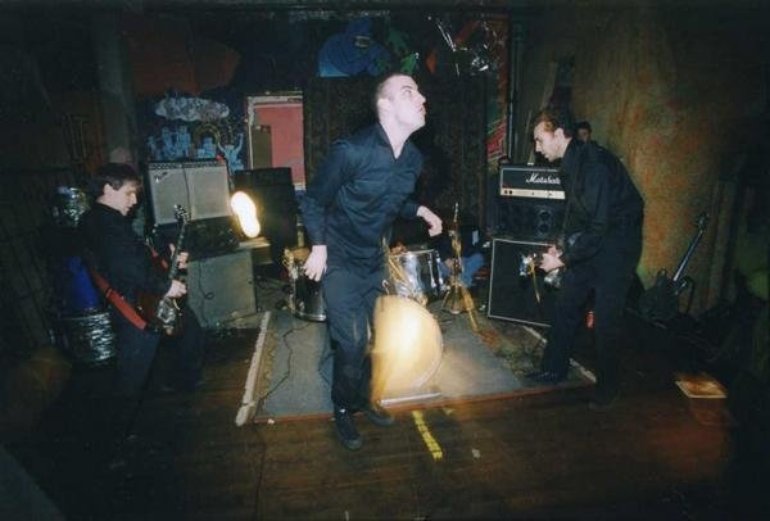 Well, we started off wearing flamboyant 1970's style leisure suits and Andrea wore a pink "waitress dress." We looked like a John Waters' film. There was a sense at a certain point to neutralize the visuals, be less individualistic aesthetically and more flat lined. I think we were trying to force the audience to pay more attention to the music than our "show." The bright lights added to a black and white film type of presentation. I have a working-class background and I would wear Dickies to work every day when I was a plumber's apprentice and also when I was a well driller. The idea sprung from that. It was working class solidarity meets Dada. On the debut of the Dickies uniforms I talked the entire band into shaving our heads before the tour. Some members hemmed and hawed about it, especially those who usually had long hair or were balding, but we all did it. This brought out the Branch Davidian/cult side of the look. That tour, we really freaked people out because we did come across as the Manson Family vibe! It was funny, we were pot smoking hippies in person, people couldn't believe how nice we were. The gang aspect, probably came from long van rides, being shit on by promoters, starvation, being lost in the world and having 20-year-old levels of testosterone. It was natural aggression. We weren't like, say, Anal Cunt, who every night was just violence amongst dudes in some bar brawl situation. That said, the world needs Anal Cunt to come back from the dead and torment them back into a more honest form of creativity. I am not even sure that is possible to be honest.
I have read (but do not believe whatsoever) that the astrology types say another epoch has shifted into place, one that has moved off of Apollonian (or as they would say, Pisces) aggression and now we are in an epoch that is embracing peace and love etc. non-violence, equity, and the world will be a better place. The Age of Aquarius. I disagree, I see things now as schizophrenic and full of passive-aggressive lies. It seems to be an age of collapse. We are far more repressed, far more divided, and far more under the control of elites than in the previous era and that makes me profoundly sad. Perhaps it is gallows humor, in the age of extinction, particularly extinction of my own identity, to go down with the ship. But let's not get too morose! I give the most credit to the people who have resisted and cared for our society the most, the dissidents who criticized to build not destroy. I've never been an advocate for schizophrenia or destruction. Arab On Radar, at least my part of it, was designed to make things better in music and open people up to new sounds and ideas.
Fort Thunder; you write about it with such wonder and admiration. I recently found a package that I was sent by Paper Rodeo, and I cherish each of those precious newspapers and eerily scrawled messages contained within it. Ben sent me a VHS copy of "The Power of Salad and Milkshakes" the same year that I saw you guys play and it felt like I'd lucked in to the next great underground music event. What would you say were your greatest memories of that era?
Yes, The Power of Salad and Milkshakes, I loved that film.
I would say my favorite memories are the days where we were ascending and perhaps peaking, around the year 2000 or so. I think people should read Psychiatric Tissues which covers all of my greatest memories from that era. It is a funny examination of Arab On Radar and just about every band at that time, every club, the entire scene. I loved it all very much!
This sort of goes back to your previous question about the toll it took on us. I think things are a curve, you go up, peak, then go down. It is good to know when to quit. I will maintain, that Arab On Radar is a completed project. There are other members who get mad about this, but to me as a creative person, I can read the peaks and the valleys pretty well. We said all we needed to say, the albums are all still there to listen to, there is Sunshine for Shady People (the AOR documentary film), and Psychiatric Tissues which is a definitive book about the band. It is the best thing any of us did musically and that is obvious. Why else is it still talked about and promoted all the time all these years later? I stand by the music 100%, I love the raw lyrics, I love the abrasive sounds, I love that the music pays homage to many talented musicians we studied and incorporated. I think AOR was a unique, interesting band. But to continue would have been folly. The music is of another time. The 2010 "reunion" was mired by dishonesty and deception and I was not the person in 2010 that I was in 2002 by far. Since then, the efforts to recreate Arab On Radar have been embarrassing, they have only undermined the power and authenticity of what AOR was in my opinion. Arab On Radar ended with the same insanity it began with. I still, regretfully, have to cope with the creators of that insanity even now, 26 years later. The music is gone, the meaning has changed, the scene is over, but the mental illness is for life.
When did you start Pig Roast Publishing? How did you navigate the transition from band member to publisher?
I started Pig Roast Publishing in 2017. I hadn't been playing music since the Arab On Radar tour in 2010. I think the last time I was on stage was at Café 9 in New Haven, Connecticut. I did Made in Mexico before that. I felt the need to take all of that creative energy and reinvent myself, and now I am having great success in a new world of being an author and a publisher. I am more excited about literature than playing music and I have met some seriously inspiring authors and publishers in the process. One in particular comes to mind, a publisher named Gian DiTrapano who ran Tyrant Books. He is an icon, but sadly he died in March. The loss of this powerful person has certainly left a hole in the literary scene, but I am optimistic people will persevere. I think I have acclimated well to the literary world, perhaps with the same relationship to it as I had with the music world, both unique and lovingly absurd.
Was "Psychiatric Tissues" always intended to be the first book you would publish?
I never thought of it that way. The first book I published was titled A Little Privacy Please by Christopher Feltner, prior to Psychiatric Tissues. I think I had the manuscript for Psychiatric Tissues written and in editing when I made the decision to open up Pig Roast Publishing, but I would have done so without my memoir too. Things fell back to the DiY ethic I cut my teeth on. I was thinking with Psychiatric Tissues of the Arab On Radar fans who would enjoy the book. That book helped the publishing house tremendously and put us on the map. Overall, I was hell bent on putting out books and received tons of manuscripts, so it was in motion prior to the AOR book.
Can you tell me about each of the books, and the authors, responsible, that you have published so far?
Christopher Feltner was first, he submitted a manuscript for his book A Little Privacy, Please. He is an odd duck! Christopher did some amazing performance art/noise music shows. He was always incognito with a pillow case on his head or something to mask his identity. The performances are on YouTube if anyone is interested. He submitted a long project that he and his cohort pursued of photographing "stall graffiti," the smut that people (typically men) scroll on the inside of bathroom stalls. It is mostly profane or cheeky comments, haikus from hell, or perverted musings. He compiled this this amazing material over many years. The book is a photo-journal of what he found across the nation. It is a wonderful coffee table book.
Then there is a chap named David Michael Joseph. Dave submitted a manuscript and I liked it. He had previous books released and I thought I would give it a shot. He is in Los Angeles and works as an actor. I have to be honest, the guy's aesthetic pleased me. He is Persian and had a unique look, he delved into some interesting street prose. He seems to have connections to all sorts of interesting LA things, not from an elite perspective, more from the street. I can't comment on his affiliations but if you read his book Toxic Candy that we did, you can see what I mean.
Okay, so I wrote Psychiatric Tissues (The Arab On Radar book) documenting the years of the band, the music scene at the time, and profiled the host of characters in other bands, labels and venues in the US and Europe where we toured in the 90's, 00s.
I put out a collection of short stories titled Gallons Per Minute. More people should read this as it is the first taste of fiction from me and I think it deserves more attention.
Then Lisa! I was thrilled to be asked to do her next book. Lisa has been a writer her whole life, wrote for Vice, Penthouse, the Nerve, New York Times, Mademoiselle and Chicago Reader! She has released 19 books, some translated in Italian and French. She has written intros to 20 other people's books. I mean, Rollerderby… it is stunning how much work she has done and how amazing she is as an author. Plus, Lisa is an inspirational guru! Spend time with her if you can, your life will be changed forever. Many people would testify to the truth of that. So, we did The Pahrump Report, which details her life when she lived in Pahrump, Nevada, and all the exciting events that transpired.
Now I have three book projects going at once and I am ripping my hair out. I hope to get them out in 2021 or early 2022 if I survive.
One of the writers you are working with is the extraordinary Lisa Crystal Carver. How did you come to publish her latest book "The Pahrump Report"?
I remember a long time ago being at the Dirt Palace (feminist collective in Providence, RI) and they have a huge 'zine library. It was the first time I saw almost all of the issues of Rollerderby, Lisa's iconic 'zine. I had heard of Suckdog in the 90s but never saw them, most of that happened slightly before I was cognizant of the scene outside of normal grunge or whatever. In 2019 Lisa was doing a book tour of sorts to promote I Love Art, a collection of short essays, philosophy on the topic. She was scheduled to come through NYC, at The Strand and KGB bar. I simply wrote her telling her I was an author. I sent her Psychiatric Tissues and she liked it a lot. She invited me to do a few readings. So, we did, Brooklyn, then I flew to the west coast and did LA and San Diego. Then in the Fall my wife, Ruby Wells, and I flew to Stockholm, Sweden and spent 4 days there with her! Ruby filmed and produced a DVD of Lisa's three skits from I Love Art, using Swedish actors, and I read from Psychiatric Tissues. Lisa returned to Nevada, then moved around a bit during 2020. She finished her book when she was in St. Paul, Minnesota over the winter. I think she pitched it around and ultimately asked me to publish it. I agreed instantly, because I think she is one of the most important people alive, and I began the long haul of design and collaboration of birthing The Pahrump Report. I consider myself a doula of books! That is my self-described role as a publisher. Now Lisa is in Botswana and seems to be loving it.
21) Are you a book collector as well as a publisher? Once stores over here opened I was pleased to resume my passion for book collecting, especially from second hand stores. I managed to score "The Horn" by John Clellon Holmes and a signed copy of "The Sinaloa Story" by Barry Gifford on my first shopping trip out. Are there any authors/publishers that you collect?
Oh yes, I have a library in my home of over 2000 books of all sorts. I look at my Kindle and shake my head, but I love physical books. I love seeing people, in parks or libraries, reading actual books. As a person inclined for restoration and nostalgia it brings me so much joy. When I die, I hope my ashes are kept in a shoebox in a second hand book store or library, near a window of course, but I love that environment very much.
The Horn, yes, I have seen copies of this book that seem to have been released as a "shilling shocker" about the seedy Jazz scene. I haven't read it in a long time, but recall a sort of Reefer Madness vibe to it. I hope I am wrong, I'm sure that there is some great musical history in that one. I'll dig it out.
I haven't read the Sinaloa Story, I should, Barry Gifford is another author on my list to get to. I certainly love Lost Highway (David Lynch film) and the noir aspects that his writing is reported to contain.
I haven't been great at seeking out an author to collect, that said, I have bought every release from a few authors: Tao Lin, Henry Miller, David Foster Wallace, I have an incredibly high number of Charles Bukowski books and memorabilia from my youth, real rare stuff. Not an author but a publisher, I am currently trying to collect all releases from Henry Rollin's 2.13.61 press (now defunct), basically because by default and of no effort of my own, I seem to be co-opting that entire collection and having good relations with many of those authors. I wish he'd just offer to let me manage it and put all those books back in press. I love all of them. It is a real shame to have them shelved like that, especially with the money he has. But he seems to be unreachable so I am going to look at all the books and approach the authors directly. If anyone wants to connect me with him or his people, write me. If anyone wants to sell me the more rare releases, write me that too!
How did you get to work with another remarkable underground figure in the form of transgressive film-maker Nick Zedd?
An associate of Nick's wrote me and asked if I was interested and I was. It will be a complicated book to replicate. Totem of the Depraved is a second edition and originally a very well-crafted book. I have to take time with production to do it justice. We are adding a few things to it that I think people will enjoy.
Lastly, what are your future plans for Pig Roast Publishing?
Release Nick Zedd's Totem of the Depraved 2nd Edition.
I also have a super cool comics anthology in the works by Alexi Zeren. This book is titled Freak Buck. It should appeal to the fan base who like RAW. Part of the proceeds will go to benefit the late iconic comic artist S. Clay Wilson who passed away on February 7th of this year. With Freak Buck the list of young and inspirational artists is incredible. We also retained licensure for some works by Spanish artist Marti who has not been in print in the English language for quite some time. Alexi has an exclusive interview with Longmont Potion Castle! There are about 20+ other amazing artists. I think this book will be big. Alexi is working very hard on this as we speak.
Last on the plate is publishing my own debut novella titled Therapists Gone Wild, I hope that I can get Dennis Cooper to review it, then my dreams would be fulfilled.
Besides that, philosophically, I will continue to Resist. Keep publishing interesting underground books, pray for recognition, and for social change in a way where people appreciate the pace and depth of reading more. I can't change the world, but I can put things into the world that people can find and perhaps their lives will change for the better as a result. I have 3 – 4 projects in the cue, people can check out my social media periodically to see what is next on the plate. I promise it will be interesting stuff to read.